Grease Lightning
Spot Treatment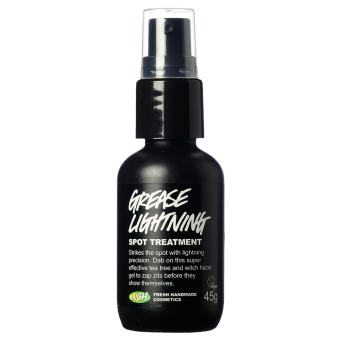 Grease Lightning is a powerful combination of ingredients that will nip any breakouts in the bud without upsetting the skin around them. We use an infusion of antibacterial and antiseptic rosemary, thyme and tea tree, as well as antioxidant-rich grape juice and witch hazel, which is astringent and anti-inflammatory and is said to soothe redness. This product is ideally applied when you feel a spot is about to erupt - prevention is better than cure. 
List of ingredients
Natural Ingredients
Safe Synthetics
*occurs naturally in essential oils.
We do not test our finished products on animals. We also only purchase from ingredient suppliers who do not test on animals. More.
Most Helpful
1 / 1 people found this helpful
f.j.alshamsi
About 5 years ago
Such a great product!!!!! My sister recommended it for me after I saw the great results on her face, so i directly ordered this cool product from the website and used it immediately and there it is, a great results too !!!
This product is what it is, it really zaps out my pimples and prevent from any growing! I use it with Cosmetic Warrior to wash my face every night and I apply this every night. One bottle lasted me for 1 and a half month!
Latest
1 year ago
AsktheSassquatch
About 1 year ago
I have spot-prone skin, so I dab this on whenever a pimple or a whitehead appears. It is not an overnight miracle worker-but it does soothe redness, and it shrinks the pimple. I've noticed that it also decreases scarring for me if I continuously apply it. It's always great to have a bottle of this on you whenever your skin is misbehaving.
Most Recent
Most Recent
Most Helpful
Top Rated