Rehab
Shampoo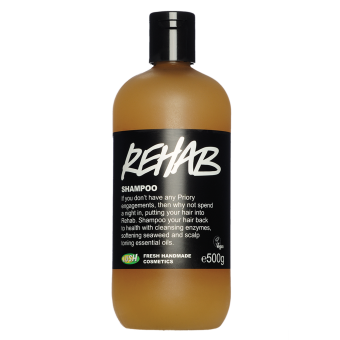 A restorative shampoo packed full of ingredients that benefit the hair and scalp. We press fresh papaya, pineapple, kiwi and mango and blend the juice with strengthening, organic extra virgin olive oil and jojoba oils. A pinch of sea salt softens and seaweed helps your locks gleam. Peppermint and juniper are said to stimulate blood flow, helping to improve the scalp's condition over time.
List of ingredients
Natural Ingredients
Safe Synthetics
*occurs naturally in essential oils.
We do not test our finished products on animals. We also only purchase from ingredient suppliers who do not test on animals. More.
Top Rated
5/5 stars
Fatma.s
About 5 years ago
i've purchased this product everytime it finish. its deep cleansing shampoo which is good, as well as the smell of this product so fresh and herbal
Latest
1 year ago
sophia_95340
About 1 year ago
I noticed so many baby hair ever since i started using this shampoo, I first did not believe it and kept on noticing the change on my hair. its not fine, however, it lacks volume, shine and falls as i die my hair alot! this shampoo is REHAB for hair for sure combined with a good hair mask. i love the after smell left on hair, it doesn't dry out hair, keeps them bouncy as its light unlike supermarket shampoo or super heavy salon's shampoos. and most important helps my scalp stimulate more baby hairs growth...
Most Recent
Most Recent
Most Helpful
Top Rated